The Thomas G Waites Band at The Cutting Room
Thursday September 28, 7:00 pm

-

9:00 pm

$23.18 – $28.52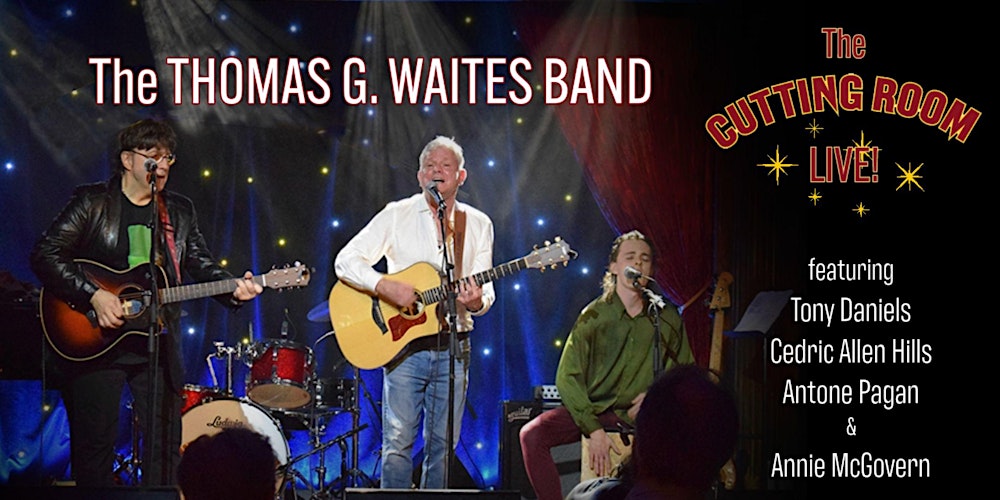 The Folk Rock, Americana music of Thomas G. Waites, Tony Daniels and Cedric Allen Hills will touch your soul with original songs that are riveting, sometimes amusing but always filled with harmony and healing. Respected actor, writer, and director Thomas G. Waites brings his songwriting, singing and guitar playing talents to the music stage along with the powerhouse performers Tony Daniels and Cedric Allen Hills.
Thomas G. Waites is an accomplished actor, acting coach, screenwriter, director, playwright, and musician. He has taken his years on stage and screen and turned his stories into powerful and original songs. Born in Philadelphia, he grew up in the New York acting scene. In addition to his stage and film work with Al Pacino, he has appeared in such films as And Justice for All, The Thing, The Warriors and the acclaimed HBO series, Oz.  He recently wrote and directed his first feature film, Target, which has been nominated at the Madrid International Film Festival in 4 categories including Best Film and Best Director. Now available to stream on Prime, with original music by Thomas and Tony Daniels, now available on amazon music.
Tony Daniels, He's the voice of CBC Television or ADR for Sean Penn in the Secret Life of Walter Mitty or Yellowstone, 1923, Girls 5 Eva or the multitude of voices on cartoons such as X-Men, Sailor Moon, the Avengers, Numbchucks, and Daniel Tiger's Neighborhood. Tony is an award-winning musician/singer/writer/producer/composer and performer and can be heard on numerous shows like Fugget About It, Bill Maher's film Religulous and, is in the Thomas G. Waites film Target. Tony has produced and co-produced with Rik Emmett, Dorian Harewood, Ian Thomas, Randy Bachman and is a four-time Grammy nominee.
Cedric Allen Hills His songwriting is only overshadowed by his musicality, playing piano, percussion and delivering lead vocals and harmonies unrivaled. He has co-written with Thomas and created a cool progressive musical project called the poodle people and his work with Thomas G. Waites and Tony Daniels is next level.