Concert: Annabelle Berthomé-Reynolds & Luka Okros at La Maison Française NYU
Thursday September 28, 6:00 pm

-

7:30 pm

Free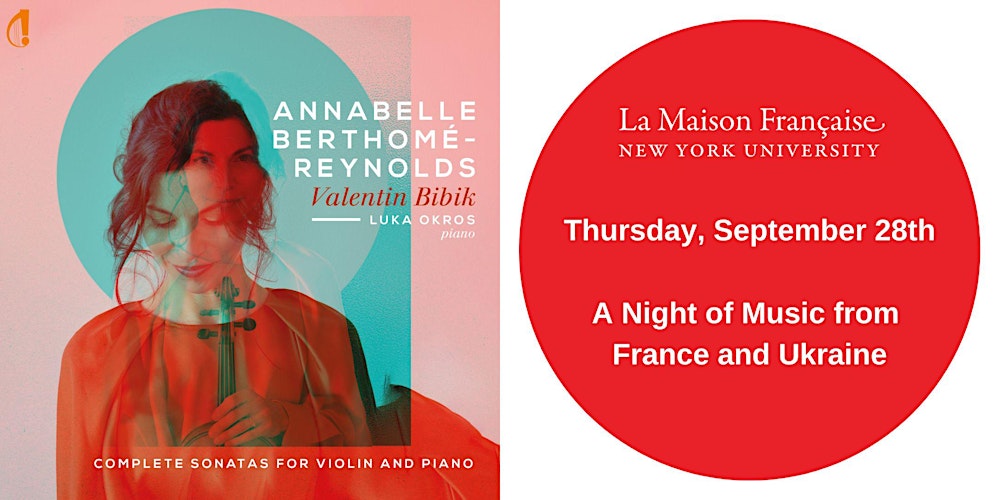 Please note that this registration page is for the current NYU community only (students, staff, faculty). If you are an NYU community member, please register with an NYU email address and be prepared to show your NYU ID card to enter the Maison.
If you are not an NYU community member, please click here to purchase tickets to this event. You will need a proof of purchase to gain access to the event.
La Maison Française of NYU is pleased to welcome French violinist Annabelle Berthomé-Reynolds and Georgian pianist Luka Okros for an evening featuring music from France and Ukraine. Berthomé-Reynolds and Okros recently released a CD featuring Ukrainian composer Valentin Bibik's three sonatas for violin and piano. Bibik's work is of particular importance; one of the great Ukrainian composers of the twentieth century, his music is coming into its own as a fixture in the classical repertoire. The rest of the program will feature famously French or France-related composers such as Lili Boulanger, César Frank and Igor Stravinsky.
PROGRAM
Valentin BIBIK — Sonata No. 3 for violin and piano (19')
Igor STRAVINSKY — Suite italienne for violin and piano (18')
Lili BOULANGER — D'un matin de printemps for violin and piano (4')
César FRANCK — Sonata in A major for violin and piano (28')