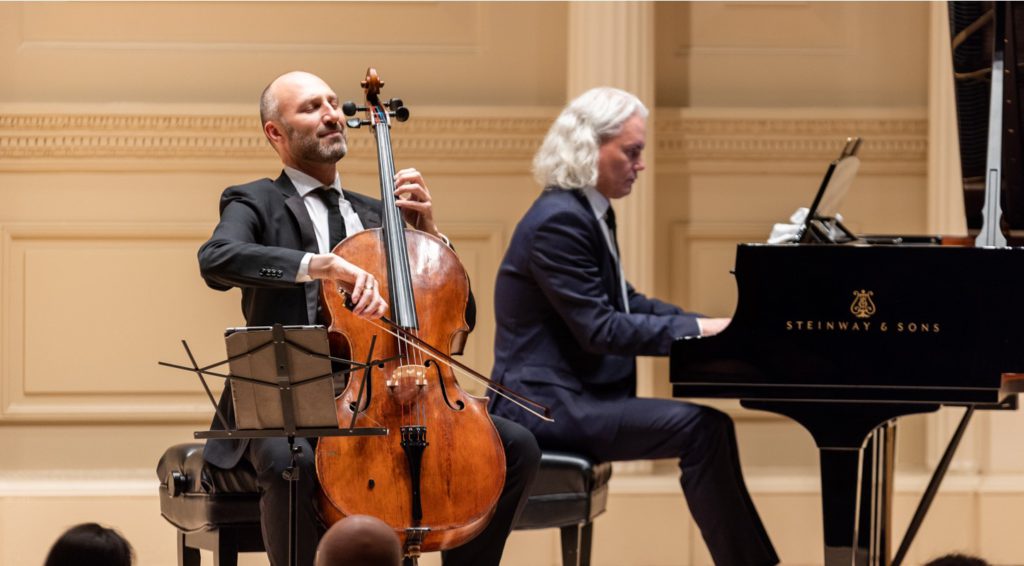 Over a hundred years ago, early works of the Danish/Dutch composer Leopold van der Pals saw their world premiere at Carnegie Hall. A week ago last Thursday, I had the good fortune to be at the Weill recital hall at Carnegie Hall to hear Tobias van der Pals and Pål Eide perform a carefully curated program of works for cello and piano, centered around another world premiere of Leopold van der Pals: his first cello sonata, performed by musical partners including the composer's great grandnephew. The hall was packed with audience members of all ages who had come to hear this work, written in 1906 while the twenty-two-year-old composer was recuperating from tuberculosis at a Swiss sanatorium. The sonata could not be performed until the missing puzzle piece—the last several pages of the score—was discovered by Tobias and the whole work painstakingly and lovingly updated by him with markings for dynamics and bowing.
Program
GLIÈRE Con Moto in E Major from Twelve Pieces, Op. 51, No. 1 (1910)
GLAZUNOV Chant du ménéstrel, Op. 71 (1900)
LEOPOLD VAN DER PALS Sonata for Cello and Piano, Op. 5a (World Premiere, 1906)
TCHAIKOVSKY Pezzo capriccioso, Op. 62 (1887)
RACHMANINOFF Cello Sonata in G Minor, Op. 19 (1901)
(Encore) GLAZUNOV Spanish Seranade, from Two Pieces for cello and orchestra, Op. 20 (1887–1888)
(Encore) LEOPOLD VAN DER PALS, Nach der Jagt, Op. 1 No. 3 (ca. 1905), song based on Ohotsuno Ozi's 8th-century poem, arranged for cello and piano by Tobias van der Pals
Continuing the puzzle analogy, Op. 5a fit in perfectly, placed at the center of the program, of which all works were composed between 1887 and 1910 by Leopold and other, better-known composers whose circles Leopold moved in. Listening to the sonata was proof that Leopold was a man of his time, at this cusp of the transition from Romanticism to Modernism. Though refreshingly original, the sonata had enough tonality, melody and familiar forms to let listeners of all expertise levels enjoy without being smothered by what Proust named "the uniform cloak of novelty." This was also true of the other works on the program.
The musicians showed themselves to be first-rate players, in seemingly effortless synchronization. There is no way to know what truly goes through the minds of players simply by watching them, but Tobias seemed to be a cellist completely at ease, despite the importance of this performance to both his career and to and his ancestor's legacy. Tobias's confidence may have derived in no small part from having as playing partner Pål, himself an active contributor to the effort of bringing otherwise lost sounds to the ear—on his most recent recording he played Edvard Grieg's own 1892 Steinway. Even with the piano's lid fully open, the sweet sound Tobias coaxed from the cello (an instrument built in Barcelona in 1740 by Joannes Guillami) was powerful enough to hold its own next to the modern Steinway, beautifully played by Pål.
If even the transition from Romanticism to Modernism can be thought of as a puzzle, it is a gemological structure that cannot not be complete without the inclusion of the crystal, fully formed at long last, of the works of Leopold van der Pals.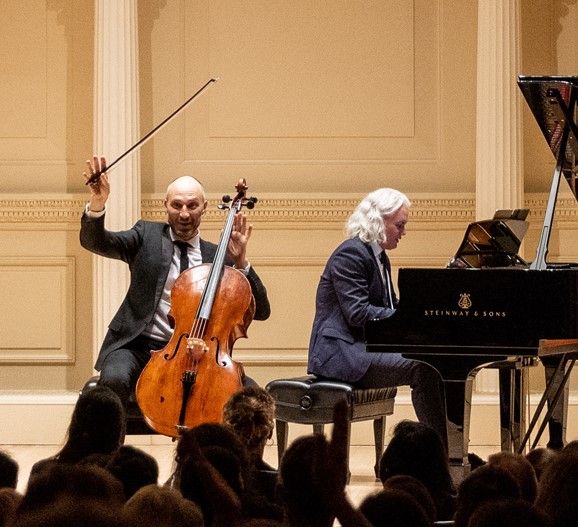 Text © 2022 Victor Levy and pianyc.net. Unauthorized use and/or duplication of this material without express and written permission from this site's author and/or owner is strictly prohibited. Excerpts and links may be used, provided that full and clear credit is given to pianyc.net, with appropriate and specific direction to the original content.