Picto – Squadra – Alpange Grand Opening at 77 Washington Avenue
Friday September 22, 6:30 pm

-

11:00 pm

Free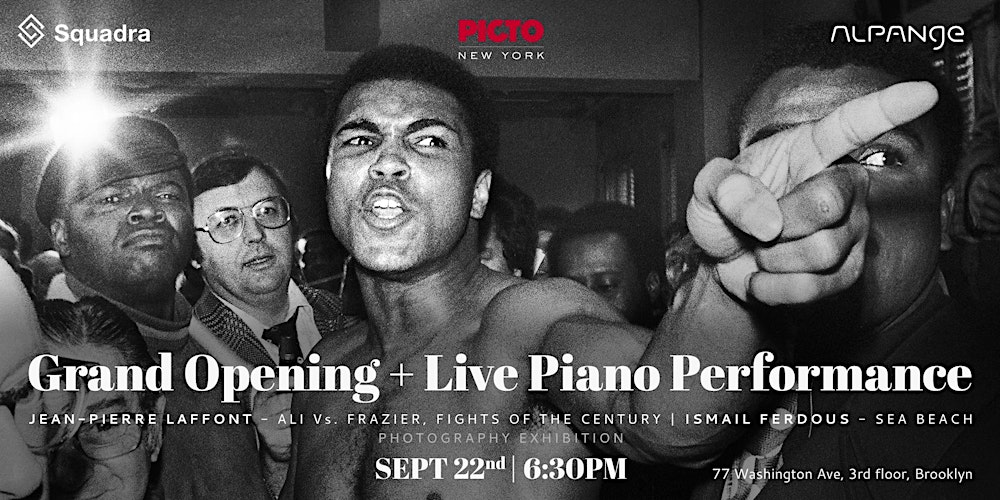 Grand Opening PICTO – SQUADRA – ALPANGE
with Jean-Pierre Laffont and Ismail Ferdous photo exhibitions + Live Piano Performance
We're extremely happy to welcome you in our new loft in Brooklyn!
On top of our full service professional photographic lab and high-end production studio, we are proud to launch our gallery space in collaboration with Squadra.
A few words about us: Picto was created in Paris in 1950 by Pierre Gassmann, a true pioneer of photography. Since then, Picto has become a leading partner of the world's most famous photographers as well as the most prestigious brands in the world of fashion, luxury and beauty. Picto New York was open in 2015. We service professional photographers' needs from scanning, retouching, printing and framing images as well as global luxury brands' needs for image production, prepress and traffic.
Event Highlights:
JEAN-PIERRE LAFFONT – Ali Vs. Frazier, Fights of the Century:
Immerse yourself in an exclusive photography exposition showcasing rare images captured during the legendary Muhammad Ali vs. Joe Frazier boxing matches in 1971 and 1974.
ISMAIL FERDOUS – Sea Beach:
Engage with captivating photography that vividly captures the vibrancy and diversity of Cox's Bazar beach scenes, evoking universal connections and cherished memories. This series is shortlisted for the 2023 Leica Oskar Barnack Award.
ALPANGE Piano Live Performance:
Embark on an extraordinary journey of musical innovation and artistic refinement with a mesmerizing short concert, unveiling the Alpange Piano. This masterful creation redefines the boundaries of musical experience, seamlessly blending acoustic brilliance and groundbreaking design. An avant-garde piano that transcends convention and reimagines the very essence of pianism, enriching the world of musical expression.
To ensure your assistance, kindly RSVP by Sept 21st by clicking the link below or contacting us at julien@pictony.com. Feel free to extend this invitation to fellow art enthusiasts and connoisseurs who share our passion for creativity and excellence.