Yekwon on Chopin at W83 Auditorium
Friday November 3, 7:30 pm

-

9:15 pm

Free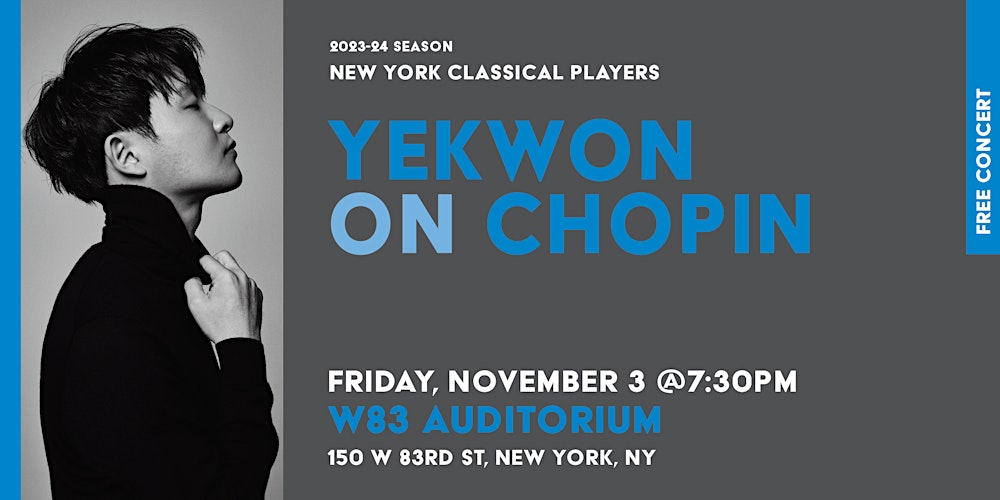 Indulge in the mastery of distinguished pianist and Van Cliburn competition laureate Yekwon Sunwoo as he soulfully performs Chopin's 2nd Piano Concerto, showcasing his remarkable artistry. The evening's program begins with David Ludwig's brilliant Moto perpetuo for solo violin, followed by Tchaikovsky's profoundly poignant Pezzo Capriccioso. The night concludes with Tchaikovsky's iconic Serenade for Strings in C major, Op. 48.
Dongmin Kim conductor
Yekwon Sunwoo piano
Kate Arndt violin
Samuel DeCaprio cello
David Ludwig / Moto perpetuo
Chopin / Piano Concerto No. 2 in F minor, Op. 21
– intermission
Tchaikovsky / Pezzo Capriccioso in B minor, Op. 62
Tchaikovsky / Serenade for Strings in C major, Op. 48
Your donation is essential and will keep us doing our concerts FREE.
(suggested donation: $20/adults, $10/students and seniors.)