Duras' Song at La Maison Française NYU
Monday October 23, 7:00 pm

-

9:00 pm

Free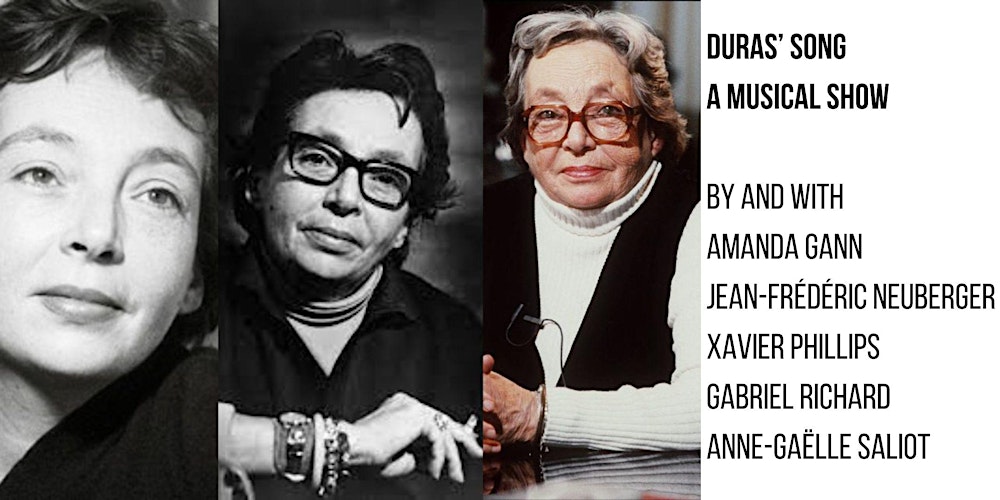 A central figure of modern French literature and cinema, Duras (1943-1995) was also an ardent feminist and an early critic of French colonization in Southeast Asia. The reader of Moderato cantabile can quickly see that Marguerite Duras' relationship with music was not the most peaceful. "I write books in a difficult place, that is to say between music and silence. I think it's something like that. We always miss something, this is forced, it is an obligation in life, I missed the music." This confession by Duras reveals the numerous affinities that her writing has with music: formal and metaphorical affinities, but also the musical work of language itself. Hence this performance, a new experience between theater and chamber music, where Anne-Gaëlle Saliot's and Marguerite Duras' words alternate with the music that populates Duras' texts and images, like the soundtracks of her films, signed Carlos d'Alessio, of whom she said: "His music surrounds me, inhabits me like the first minute I heard it".
PROGRAM
Carlos d'Alessio (1935-1992), India Song (piano)
Johann Sebastian Bach (1685-1750), Prelude – excerpt from The Cello Suite Nr in G major BWV 1007, Contrapuntos I – excerpt from The Art of the Fugue BWV 1080
Anton Diabelli (1781-1858), Sonatina op. 168 in F major (First movement)
Franz Schubert (1797-1828), Nocturne in E flat major
Frédéric Chopin (1810-1849), Trio for Piano, Violin and Cello in G minor op.8, Waltz in A minor op. 34 Nr 2
Johann Sebastian Bach (1685-1750), Chaconne for Solo Violin
Saint-Granier (1890-1976), Ramona
Jean-Frédéric Neuburger, The Neva (song)
Alain Souchon (1944), Allô Maman Bobo
Frédéric Chopin (1810-1849), Waltz op. 64 Nr 1: « Small Dog »
Hervé Vilard (1946), Capri, c'est fini (song).