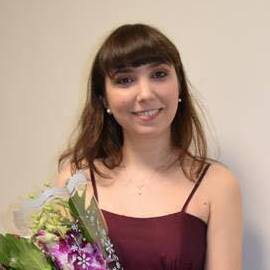 Natalia Suriano is one of a small group of stellar young Argentine pianists who are protégés of Mirian Conti, the New York piano performer, recording artist and educator. Ms. Conti has organized a program of musical competitions in Argentina designed to identify fledgling pianists with the talent to gain admission to, and thrive at, the most competitive musical institutions in the United States. Ms. Suriano's solo graduate recital was one of the steps on her way to her Master's degree at the Manhattan School of Music, and to Ms. Conti's long-term vision of enriching Argentine piano artistry.
Program
HAYDN Sonata in C Minor, Hob. XVI:20, Op. 30, no. 6
GRANADOS Escenas Románticas
DEBUSSY
Préludes, Book 1, CD 125; L. 117, I. Danseuses de Delphes
Préludes, Book 2, CD 131; L. 123, V. Bruyères
POULENC Les Soirées de Nazelles
PIAZZOLLA Adiós Nonino
Ms. Suriano played her recital at MSM's lovely Greenfield Hall before a small audience including her professor Solomon Mikowsky, family members who had traveled from Argentina for the occasion, and Ms. Conti herself. Ms. Suriano played an inspired program of highly technically demanding works by classical through modern composers. Her playing was full of precision, warmth and spirit, with no audible effect from an occasional blitz from the cameras of well-wishers who may not have picked up on the pre-concert admonitions regarding the use of flash. It may have been my quiet mood, but I found especially and breathtakingly lovely her playing of the Allegretto movement in the Escenas Románticas, the Debussy Bruyères prelude, and every serene movement in the Poulenc.
We should never stop appreciating, especially in this season where political campaigners would have us believe society is in shambles, that in New York City, for no charge and with no reservation, we can walk in from the street, be greeted courteously, and be shown to a seat where we can enjoy an artistic performance of extremely high caliber. We just have to know where to look.
You can see Natalia Suriano perform next month as well, in concert with flutist Laura Del Sol Jimenez.
© 2016-2017 Victor Levy and pianyc.net. Unauthorized use and/or duplication of this material without express and written permission from this site's author and/or owner is strictly prohibited. Excerpts and links may be used, provided that full and clear credit is given to pianyc.net, with appropriate and specific direction to the original content.